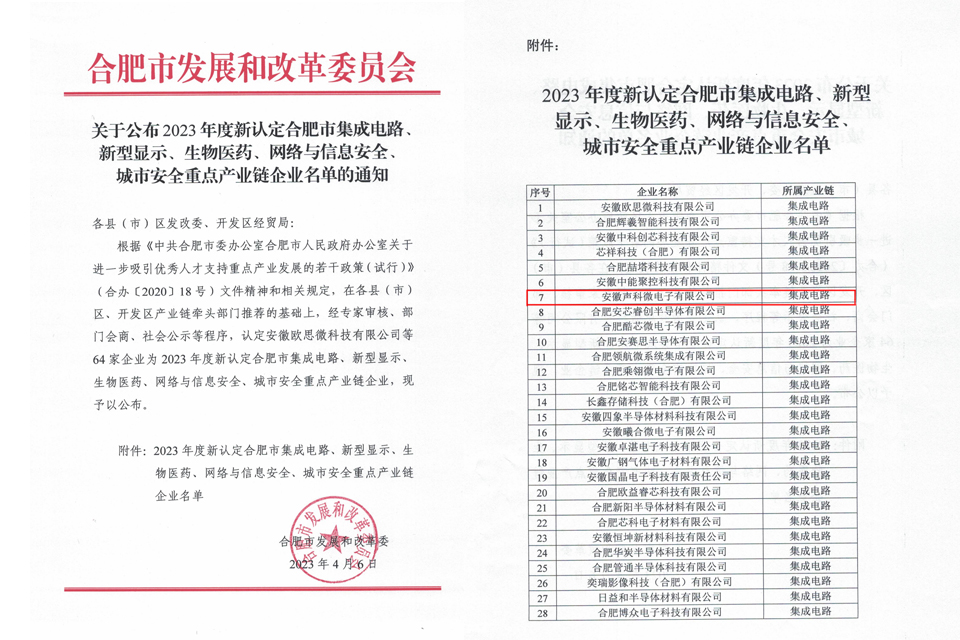 Recently,Hefei Development and Reform Commission announced the 2023 annual enterprise lists of "Hefei Integrated Circuit, New Display, Biomedicine, Network and Information Security Industry Chain". Anhui ShengKe Microelectronics Co., Ltd. (SKEIC), as a key integrated circuit enterprise in Hefei, together with industry leaders such as Changxin Storage, was shortlisted for the key enterprise database of the integrated circuit industry chain.
SKEIC is a wholly-owned subsidiary of Shaanxi Shengke Electronic Technology Co., Ltd. (SKE), which is mainly engaged in millimeter wave radar chips, GaAs millimeter wave power amplifiers and low noise amplifier chips, the research, design and sales of ARM chips.
Millimeter-wave radar chip developed of SKEIC is committed to filling the gap in China's high-performance radar level measurement instrument chip. Its core design is a highly integrated chip (low cost) and high SNR RF transceiver front-end module, which belongs to the upstream design of the millimeter-wave radar chip industry chain. It is of great significance to improve the rational layout of my country's millimeter-wave radar industry, promote the coordinated development of the industrial chain, and build a strong innovation ecology.
The millimeter-wave radar chip adopts the current international advanced 3D chip stacking (chiplets) technology. At the same time, the gallium arsenide (GaAs) RF transceiver front-end and active circulator MMIC chip and CMOS chip hybrid package are being designed, which not only improves the emission Power, reducing system noise, while improving the signal-to-noise ratio. The biggest advantage of the technology of our chip is: self-developed chips (100% localized design and production); technology controllable, high applicability (instrument measurement, smart transportation, hydrological monitoring and other fields); huge market, easy to form industries Ecology (mass-produced chip modules, estimated to ship millions of units worldwide each year).
This entry into the list of key industrial chain enterprises in Hefei in 2023 is inseparable from the support and affirmation of our company by the leaders and colleagues of Hefei Municipal Government, Hefei High-tech Zone, Hefei High-tech Zone Semiconductor Investment Promotion Center, and Hefei High-tech Zone Integrated Circuit Incubation Center. , We would like to express our sincere thanks to them here. In the future, SKEIC will continue to work hard in the field of millimeter-wave radar chips, and make persistent efforts to make its modest contribution to the high-tech industry in Hefei and China's high-tech manufacturing.